9 November, 2023
Wheelchair tennis champion
WORLD-CLASS junior wheelchair tennis player Benjamin Wenzel, of Cairns,  is bringing his exceptional skill and talent to the Koala Army, after being offered a multi-year sponsorship by the Australian Koala Foundation.
By Isaac Colman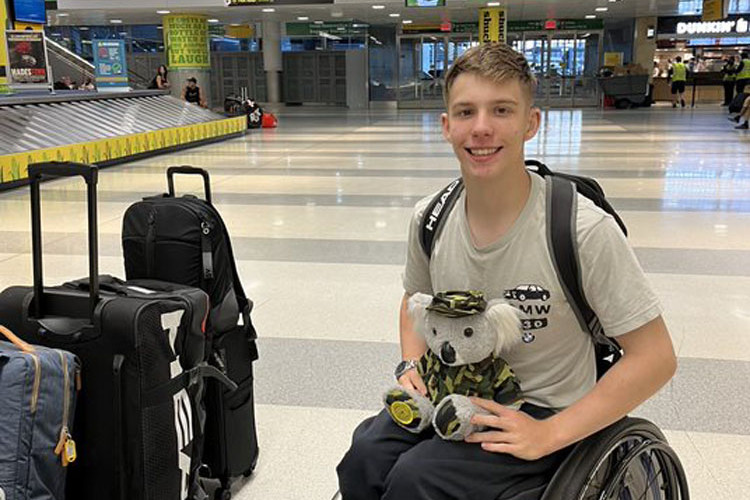 Ranked sixth in the world and number one in Australia in junior boy's wheelchair tennis, the 16-year-old brings his unwavering commitment and exceptional talent to the cause of the Koala, proving to be an outstanding addition to the AKF's Koala Army.
The Australian Koala Foundation is the principal non-profit and non-government organisation dedicated to the conservation and effective management of the wild koala and its habitat. 
AKF aims to refine and update the Koala Habitat Atlas mapping of all wild koala habitat and to get the Koala Protection Act enacted, ensuring longevity of koalas and their habitat.
Mr Wenzel shares a passion for raising awareness for koalas, expressing his excitement and honour.
"I am truly honoured to be supported by the Australian Koala Foundation as this will be my first sponsorship," he said. 
"Koalas are not just adorable creatures, they are a symbol of Australia, and I am so looking forward to being their ambassador."
Deborah Tabart, Australian Koala Foundation chairwoman, said  the sponsorship would raise awareness about the need to save the koala and a Koala Protection Act.
"The AKF is thrilled to sponsor Ben as he embodies the spirit of the Australian Koala Foundation," she  said.
"I met Ben at Premier Palaszczuk's Olympic breakfast. 
"I was just so overwhelmed at his honesty and vision for how he could be the best in his field. "
"With Ben's support, we will be able to build a formidable Koala Army, united in our mission for the Koala Protection Act, which aims to preserve our beloved koalas and secure a brighter future."
"Ben is the guiding light for the younger generation," Ms Tarbart said
Most Popular