27 October, 2023
Richmond AFLW clean up Hawks at Cazalys by 11 points
HAWTHORN AFLW has fallen to Richmond with an 11-point victory at Cazaly's Stadium in Cairns last Friday night.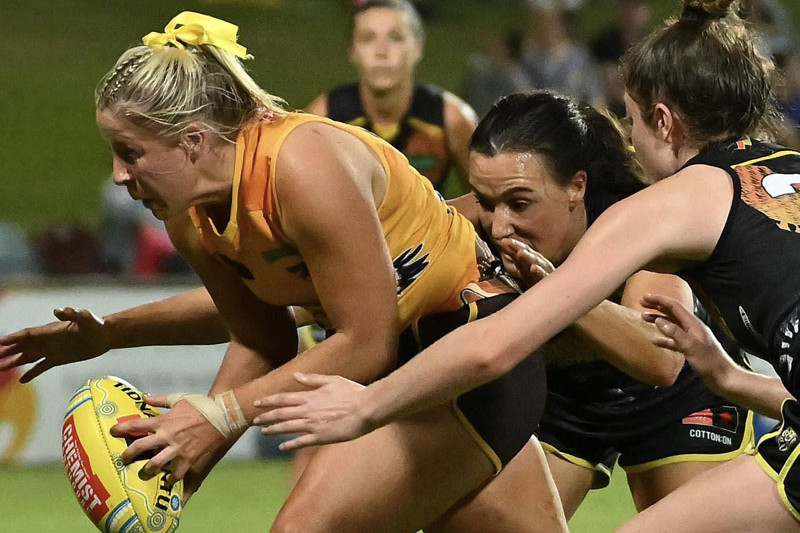 Separated by one point at half-time and down by nine entering the last quarter, the Tigers pulled off a 6.5 (41) to 4.6 (30) to come-from-behind to keep their finals hopes alive.
Hawthorne were hosts at Cairns for the Friday night.
Midfielders Monique Conti (35 disposals, seven clearances) and Grace Egan (28, 5) helped Richmond to victory, while Hawthorn was led by Emily Bates (18, four) and Jasmine Fleming (18, one).
Hawthorn coach Bec Goddard said Richmond's midfielders were "absolute beasts".
"They really worked hard all night. Our work rate really dropped off and we just watched them play some really good footy," she said.
But Goddard said there were some exciting moments of footy by the Hawks.
She said they were growing and getting better.
Hawthorn's Irish import Aine McDonagh kicked the opening goal before Tigers skipper Katie Brennan slotted two unanswered majors to celebrate her 50th game in style.
Fellow 50-gamer Greta Bodey snatched her own goal before quarter-time.
After a skirmish in the second term Laura McClelland was given a 50m penalty following a bump against Sarah Hosking by Sophie Locke and converted from inside the goal square.
Bridie Hipwell kicked the only goal of the third quarter to give Hawthorn a game-high nine-point lead.
Richmond rebounded in the last term, with Courtney Jones ending Hawthorn's three-goal run, reducing the difference by three points. Yassir reduced the deficit to a single point before finally breaking through on her third attempt.
Tigers were then ahead by six points with 11 minutes left, before Caitlin Greiser sealed the win with a massive goal from 45m.
With two rounds left, 11th-placed Richmond (4-4) still have a hope of the finals but face a big battle against sixth-placed Geelong next week, while Hawthorn (14th, 2-6) play their penultimate match against 15th-placed Port Adelaide.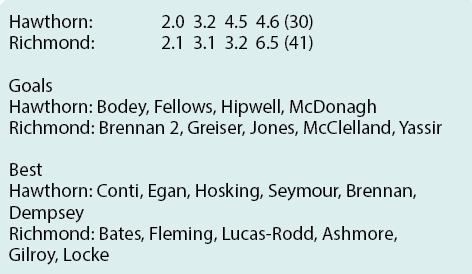 Most Popular