23 October, 2023
Out with the old, in with new
THE first of the old aerobridges at Cairns International Airport terminal has been removed.
By Nick Dalton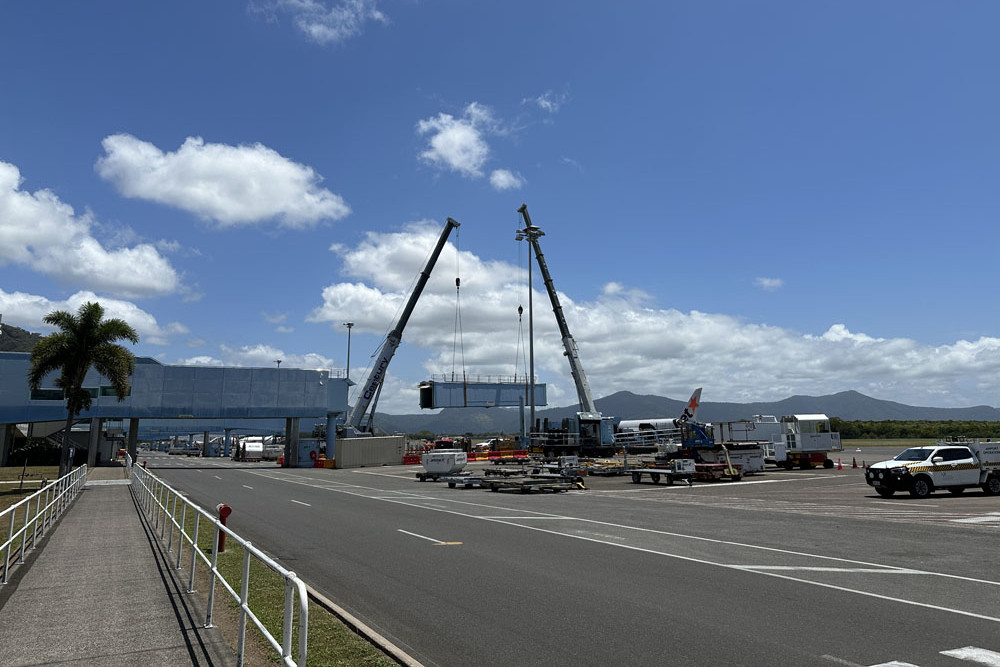 It started with the demolition of aerobridge two last week.
An airport spokeswoman said the aerobridges were part of the overall $55 million redevelopment of international terminal.
"These new, glass airbridges will give passengers a panoramic view of the mountains and waterways as soon as they land," she said.
"All of the aerobridges are due to arrive in Cairns early in November. The first will be operational by the end of this year and the rollout of the others will be staged one at a time, with completion due by mid-2024."
The new aerobridges are made in Shenzhen, China, and configured to handle all aircraft types, including A380s.
The old aerobridges will be recycled for scrap metal and other useable materials.
The first stage of the redevelopment involves a complete refurbishment of the check-in and arrivals areas, including new escalators, elevators, bathrooms, fresh paint, artworks and furnishings.
The external façade of the terminal will also be re-cladded.
The first raft of upgrades is expected to take about 14 months to complete and will generate up to 100 jobs during the construction phase.
The second stage will focus on new baggage reclaim belts and an expanded area to increase capacity.
The departures area will be overhauled during the third phase, with a new layout and seating spaces. Overall, $40-$50 million will be invested in the upgrade.
In the meantime, the latest passenger statistics show overall growth last month of 13.4 per cent to total 437,901 (from 386,325 in September 2022). International numbers grew 227 per cent from 16,424 to 53,725, while domestic figures were 372,422 (359,387) – up 3.6 per cent. The Conus Quarterly report for September said the most recent data from Cairns Airport showed a steady improvement over recent months.
Most Popular