29 July, 2023
Mossman shows how it's done
Last week's 'Goss' celebrated a number of amazing events that have either recently taken place in the Douglas Shire or are about to happen at this busy time of the year.
By GAZZA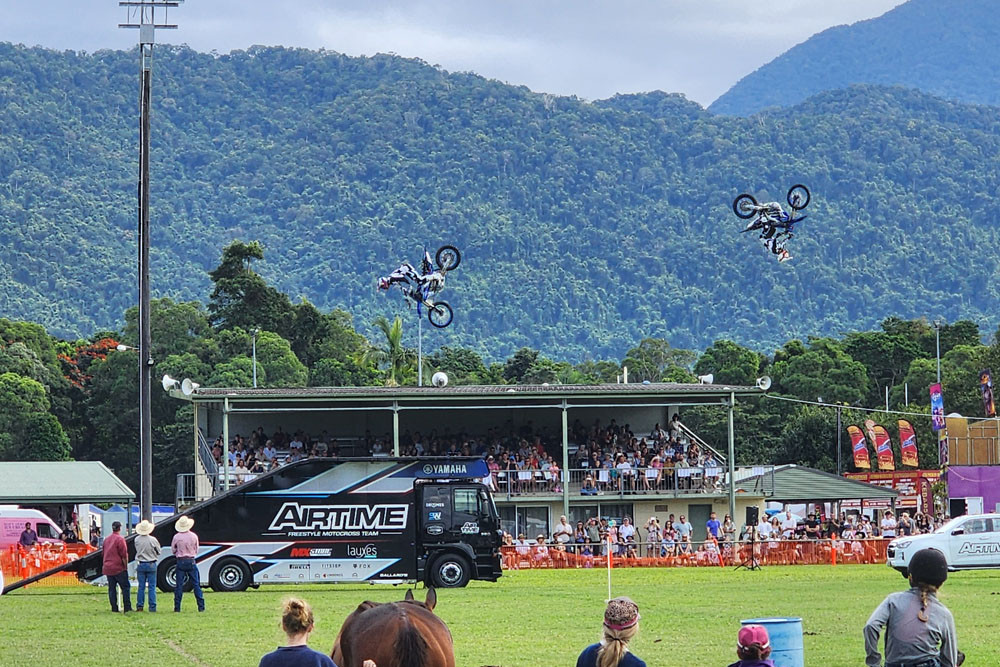 You may also remember that I gave you a heads up on the weekend's 71st annual Mossman Show, which I attended on Monday for a slice of the many fun things taking place over the long weekend.  

I have attended a number of local shows in Far North Queensland and Mossman is certainly up among the best. The perfect sunny winter's day also naturally added to the overall pleasure.
Once again regular favourites like the reptile show were popular with both locals and visitors, all keen to learn a little more about the beautiful but often dangerous creatures of this land. 
There are, of course, the more traditional exhibits like the poultry and cattle, plus a chance to view some of the latest farming equipment up close and personal.
Mossman Show brings out a competitive edge with activities like the wood chopping, dog riding, equestrian events, cooking, plus arts and crafts competitions. As expected at an agricultural show, there is always some interesting livestock to view, each aiming to be 'best in show'.
No Mossman Show would be the same without a selection of food options available to help everyone keep their energy levels up. It was a great to see a variety of choice from different locations around the world.
I have to confess a curly potato was my chosen meal for the day. I think potato spiral is the posh term used.
One new option to tempt the taste buds, this year, was Ranger Nick and his Campfire Cooking Show. Judging by the interest, Nick may well be back again next year.
Music was very much part of the weekend, with entertainment provided by local school bands and live music to get the crowd moving on Sunday night.
When I arrived just after midday on Monday, I was there just in time to see Showtime FMX and their freestyle Moto X Show. As a well as a new feature for this year, the crowd pleaser promised to be one of the headline acts for 2023. Once both the riders and motorbikes were elevated upside down in front of the gasping audience, it was easy to see why this was the case.
Another key attraction for the two days, as always, were the fair ground rides and stalls which were in full swing during my visit.
Having said all of this, once again for me, my favourite attraction was the pig racing. Loved by both the young and old, there is something very special about watching the cute little friends fly around the paddock in their unique style and their colourful bandanas.
Well, that's just some thoughts for this year and I must say well done to all of the organisers, particularly the volunteers for helping to create another memorable Mossman Show.
I'm off for another curly potato, so for now it's Gazza signing out.

Send your stories to gazza@cairnslocalnews.com.au

Most Popular