FNQ Dementia Alliance Monthly Meeting and Morning Tea
24th Oct, 2023 10am-
Edge Hill Memorial Bowls Club, 181 Woodward Street Edge Hill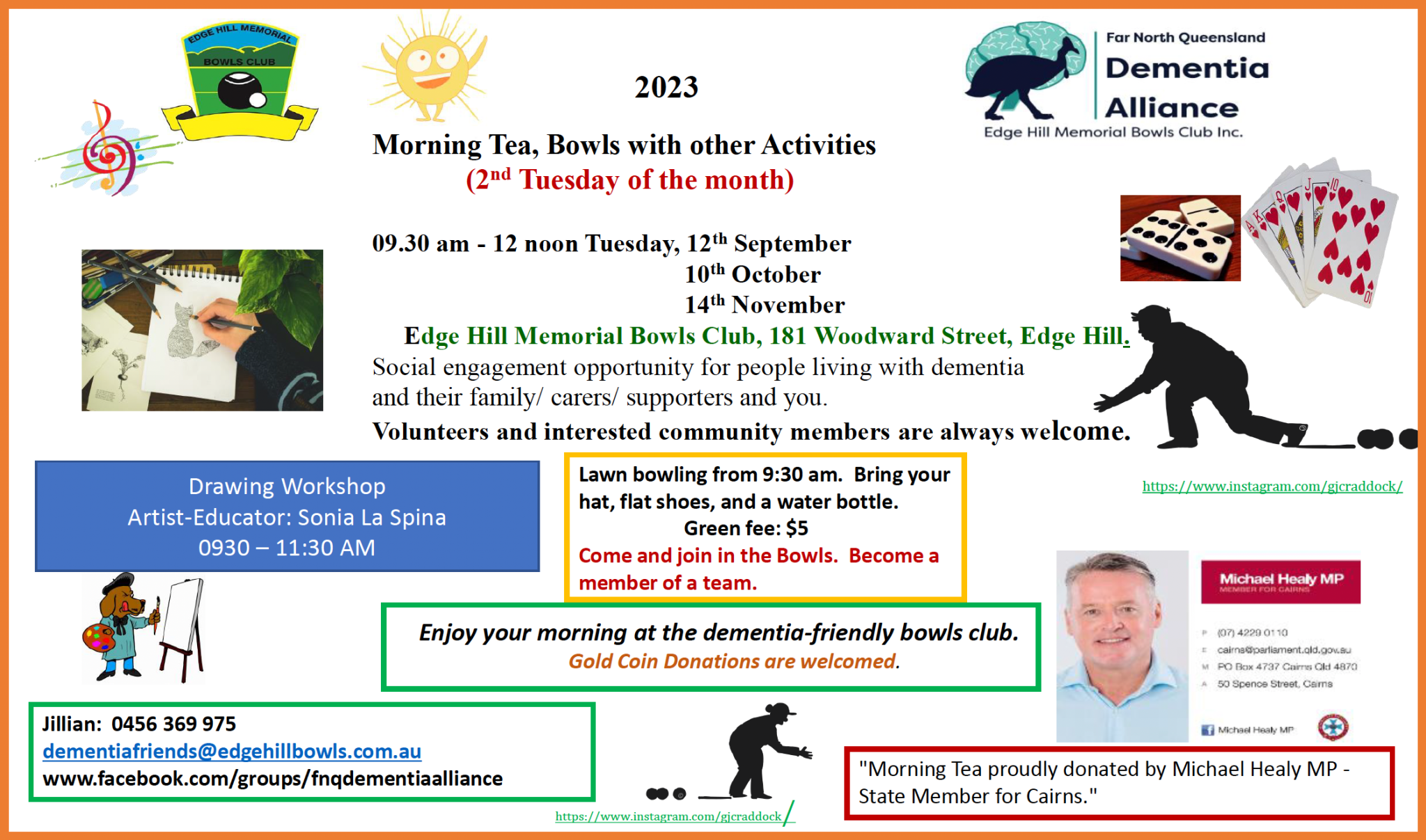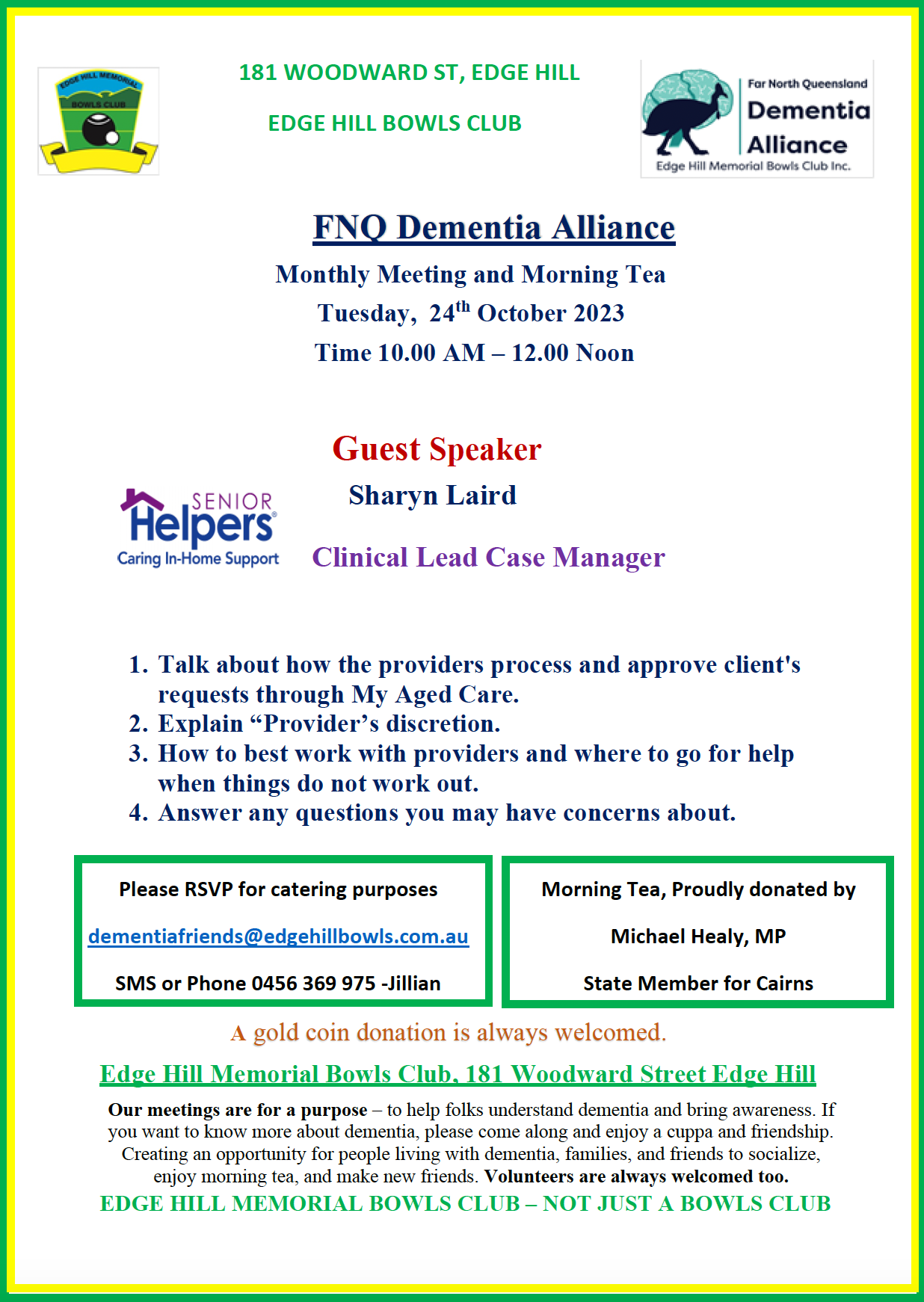 MINUTES Far North Queensland Dementia Alliance Monthly Meeting September 26, 2023 10:00 am 
 Phone: 0456 369 975 Email: dementiafriends@edgehillbowls.com.au 
 ATTENDANCE 
Committee members: Jeannie Wild, Kyoko Yoneda 
Members & Visitors: Liz Sexton, Lorraine King, Ana & Tony Simao, Yvonne Bolton, Len Walder, Marion Pyne, Laurie Coyne, Kathryn & Chris Lodge, Birgit Stehle-Kawehl, Hedy Verhulst, Barbora Vlachova, Shehana Friday 
Apologies: George Burnett, Jillian Alexander-Sachse, Pat & Sandra Ryan 
BUSINESS ARISING SINCE LAST MEETING 
September Morning Tea & Bowls (12th) Bowling in the beautiful sunny weather and a lovely time socialising and enjoying activities. Thank you, Sonia, for the art session. People discovered new talent and joy. Some others enjoyed the games of Dominos. Thank you, Lorraine, Yvonne, and Jeannie, for making lovely food. 
See Me Aged Care Navigator Online Masterclass Series September 6. Dignity of Risk by Donne Reis. Details and registration for the October (11th 4:30 pm) webinar "Dementia and Cognition Supplement" at http://www.seemeacn.com.au/aged-care-masterclass 
National Dementia Action Week 2023 by Dementia Australia (18-24th). September was also World Alzheimer's Month; we saw more about dementia on TV and websites. Check our Facebook Group page for some of them. https://facebook.com/groups/fnqdementiaalliance 
GUEST SPEAKER: 
Shehana Friday, Engagement Officer from Synapse, Australia's Brain Injury Organisation, presented on brain injuries and their effects on people. Damage to parts of the brain has physical, cognitive, psychological, and emotional effects similar to dementia, including the inability to self-regulate behaviours. Please visit www.synapse.org.au. There is a lot of useful information about brain injury, including dementia and living well with it. Shehana kindly left some of their books and booklets, so if you would like copies, just let us know. 
BECOME DEMENTIA FRIENDS SESSION: In conjunction with Dementia Action Week 2023. 
This year's Dementia Action Week is all about taking small actions to make our community dementia friendly, with greater understanding of dementia, less stigma, and more support for people living with dementia. We watched Dementia Australia's Become Dementia Friends video, and six more people registered as Dementia Friends. If you would like your friends, family, neighbours, or colleagues to watch the video, ask them to visit www.dementiafriendly.org.au and go to "Become a Dementia Friend". A little more understanding makes a big difference! 
MORNING TEA 
Mingling and catching up over morning tea. Thank you, Lorraine, Yvonne and Jeannie, for making lovely morning tea. 
JOIN THE TEAM! 
Would you like to make a difference in the lives of people living with dementia in our community? We welcome volunteers for our monthly meetings and activity-day morning teas in any way you can, as well as advocating, project planning, social media, and guest speakers. You can also contribute with feedback and suggestions and share posts on our Facebook group page https://facebook.com/groups/fnqdementiaalliance MINUTES Far North Queensland Dementia Alliance Monthly Meeting September 26, 2023 10:00 am 
Phone: 0456 369 975 Email: dementiafriends@edgehillbowls.com.au 
NEXT BOWLS/MORNING TEA and MEETING Morning Tea & Bowls 10:00-11:30am, Tuesday, October 10. (Bowls and Art from 9:30 am) Monthly Meeting 10:00-11:00 am (followed by morning tea), Tuesday, October 24. 
The Guest Speaker is Sharyn Laird, Clinical Lead Case Manager for Senior Helpers Caring In-home Support 
Talk about how the providers process and approve clients' requests through My Aged Care. 

Explain "Provider's discretion. 

How to best work with providers and where to go for help when things do not work out. 

Answer any questions you may have concerns about. 
NOTICE BOARD 
Hearing and Brain Health Information Session by AUDIO HEALTH Wednesday, Oct 4, 10-11:30am, Brothers Leagues Club. "Hearing loss can increase the risk of dementia by 2 to 5 times." Morning tea was provided. Register at https://www.audiohealth.com.au/hearing-brain-health-event-cairns 
Dementia Australia Education Sessions 
"Exploring Respite" Group session in Cairns on Thursday, Oct 5, 9:30 am-12:30 pm 
The process of considering respite services, types of respite, how to access services, and strategies for preparing for respite. Register at https://www.dementia.org.au/events/exploring-respite-6 
**These and other sessions are also available online https://www.dementia.org.au/events 
Preventing Dementia Massive Open Online Course (MOOC) by Wicking Dementia Centre, University of Tasmania, is an Excellent interactive online course to learn about dementia and how to prevent/slow down its progress. FREE Enrollment starts Oct 10. https://mooc.utas.edu.au/course/34 
See Me Aged Care Navigator Online Masterclass Series, Wednesday, Oct 11 at 4:30pm "Dementia and Cognition Supplement " by Coral Wilkinson. This additional funding is for people who have a Home Care Package and moderate to severe cognitive impairment. You can find out more and register at http://www.seemeacn.com.au/aged-care-masterclass 
My Dementia Companion Take up its one-month free trial for this excellent online information/support portal for people living with dementia and their carers. Personalised menus and topics, loads of information, resources, and great tips and interactions from professionals and peer carers. www.mydementiacompanion.com.au 
---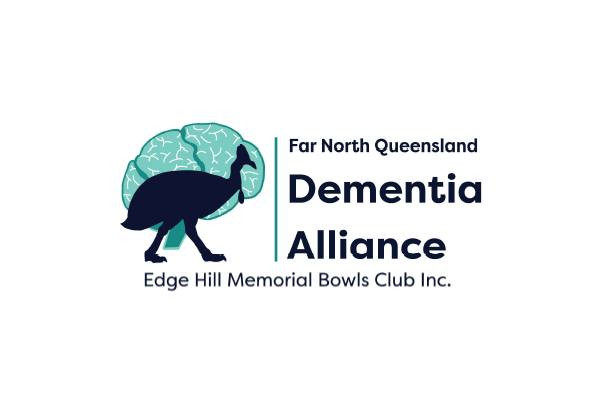 ---